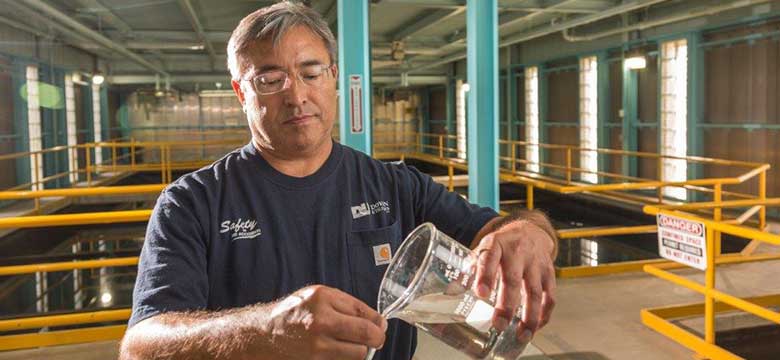 Joint Base Elmendorf-Richardson
Joint Base Elmendorf-Richardson is located in the Municipality of Anchorage, Alaska.  Doyon Utilities serves primarily the Fort Richardson side of the Joint Base, but provides treated water to both the Richardson and Elmendorf portions.  The population served consists of approximately 6,500 military personnel, 2,941 family members, 1,765 Army retirees, and 1,282 civilians.
DU's JBER team of utility fitters, operators, and electrical tradesmen operates four utilities:  electric distribution, natural gas distribution, water treatment and distribution, and wastewater collection.  DU also owns and operates Alaska's only Landfill Gas Plant, which produces electricity for the installation.
Electrical Distribution System (EDS).  DU's Electrical Distribution System consists of over 180 miles of overhead and underground distribution line.  Electricity to the installation is supplied by Chugach Electric Association and DU's Landfill Gas Plant.  The landfill gas plant is a 7 MWe facility that uses methane from the Anchorage landfill to provide about 60% of the installation's energy requirements, taking a waste product and converting it to clean energy.
Natural Gas Distribution System. Heat to JBER-Richardson is provided by natural gas, which is supplied by ENSTAR.  The installation has over 35 miles of natural gas distribution lines serving the installation's facilities, buildings, and residences.
Potable Water Distribution System.   JBER's water comes primarily from the Ship Creek Reservoir, located on installation property.  The water is treated at DU's water treatment plant before it is distributed throughout both the Richardson and Elmendorf sides of JBER.
Wastewater Collection System.  DU's wastewater collection utility collects JBER-Richardson's wastewater through direct-buried sewer lines and transfers it to the City of Anchorage Water and Wastewater Utility (AWWU) for treatment.